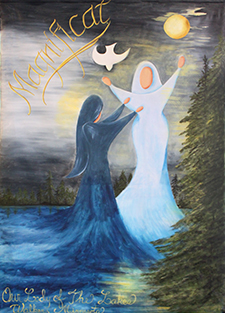 OUR LADY OF THE LAKES MAGNIFICAT CHAPTER
Magnificat came to be in 1992 in our Walker-Hackensack area through women involved in the Catholic Charismatic Renewal. These women were seeking to have a Women's Fellowship that would minister to the spiritual need of all women under the guidance and authority of the Catholic Church.
Through much prayer for direction, affirmation came at the Charismatic Leaders Conference in Pittsburgh, Pennsylvania, " Return to the Upper Room", for the 25th anniversary of the Renewal. The first night of the leaders meetings we were told to break into small groups and pray for the needs of each leader. Our prayers were for directions and approval of a women's group to the Duluth, Diocese. A lady we had never seen or spoken to before we began to pray, stopped and said, "You are going to begin a Magnificat and your Bishop will approve, move quickly".
The second affirmation came during the same conference. We were trying to meet with Marilyn Quirk, the Central Service Team Coordinator, whom we did not know, but had seen years past speaking about Magnificat.
We prayed that we would recognize her in the large crowd and be able to meet with her. Looking over the large crowd of people we spotted a person we thought might be Marilyn. We walked up to the lady and said, "Are you Marilyn Quirk, the Coordinator for Magnificat"? She was. God is so good.
Father LaPatka, Betty Garoutte and Rosemary Ellis met with Marilyn on Friday, June 5th 1992, for lunch in a near by hospital cafeteria and the first step toward the Magnificat Ministry had now been taken.
Going back to our ladies, it was a unanimous decision that Magnificat was the Ministry for us.
We met with our Parish Priest, Father Tom Bouchard and we received a wonderful "Yes" of approval. Then, with the help of Fr. LaPatka, who had been appointed Spiritual Advisor for Magnificat, we sought approval from the service team for the Charismatic Renewal and from our Bishop, Roger Schweitz. We were overjoyed with his blessing and full approval.
Fulfilling all the necessary letters of approval and legal steps to be taken, the approval of our first Service Team, the first Mother Chapter of Magnificat was formed in the Diocese of Duluth.
With our hearts consecrated to the Sacred Heart of Jesus and the Immaculate Heart of Mary and filled with the Holy Spirit, we are ready to proclaim Jesus is Lord: active, living, and present to the Glory of God our Father!
---
On the 21st of Each Month
Rosary Blanket of Prayer
This is our chapter assignment: to commit to Eucharistic Adoration and to pray the Rosary for the intentions of a new Pentecost, the Church, Magnificat, Sanctity of Life, Marriage & Family, and World Peace. Please join us!