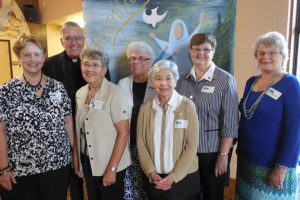 SERVICE TEAM
Betty Garoutte • Coordinator
Jean Bauerly • Asst. Coordinator
Mary Reints • Secretary
Darryle Carlson • Treasurer
Lorri Henning • Historian
Rosemary Ellis • Advisor
Fr. George Zeck • Spiritual Advisor
MINISTRY CHAIRWOMEN
Jamie Richter • Music Ministry Chairwoman

Our chapter Service Team coordinates the Meals and other events throughout the year.
If you are interested in starting a Magnificat chapter, please contact Mary Harper, Regional Rep. at mharper55@yahoo.com.
---
LEADERSHIP / THE CENTRAL SERVICE TEAM
www.magnificat-ministry.org
The highest governing body of Magnificat is known as the Central Service Team (CST). They are located in Metairie, Louisiana, but women from all over are part of and support this team.
The CST fosters unity among the local chapters and service teams. While allowing for legitimate diversity, the team in union with the bishops of the dioceses to which Magnificat has spread, preserves the integrity of the Magnificat ministry. It also coordinates the expansion of Magnificat by enabling the affiliation of new local chapters, establishing policies and procedures while providing direction and leadership to the entire membership.